​Biography
​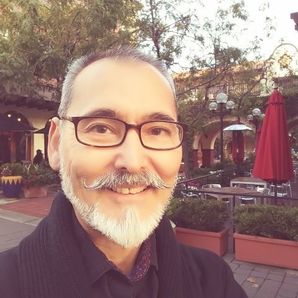 Am I still an unknown writer now that you've found me? Several years ago, I submitted short stories to various contests and won a couple. But I didn't send my manuscript of The Hover, Cedric Book 1 in its current form to any literary agent. I was about to shelve it when my wife suggested that I self-publish to which I replied, Uh okay.

My background… I wanted to be an entomologist when I grew up. Thank Buddha for word processing; I spun my insect-interest into a short story about a psychotic cockroach. That story will be featured in my upcoming short story collection.

I was born in northern California and grew up near Berkeley. I've lived in several places in California, including San Diego and Los Angeles. I also lived in Japan for two years. That was an amazing experience! I studied creative writing in community college. While at University of California, San Diego, I co-hosted a weekly poetry reading at a coffee shop in Ocean Beach and wrote my first science fiction novel.

In Japan, I taught English, drank sake, and wrote several short stories, a novel, and a sociocultural hypothesis that might explain how formerly warring Japan became a peace loving culture and arguably the safest society on earth shortly following the end of WW II: http://carltonalear.wix.com/kawaiism#%21. Admittedly, needs more work...

​In Okayama, I wrote 893 Crows. It's about a post-graduate student who gets mixed up with the mob (yakuza) in a post-apocalyptic Japan. I hope you will read The Hover: Cedric Book 1, released in summer 2017. It's a Gothic horror novel about a sixteen-year-old boy's struggle to survive in a world rife with monsters, and a young man's struggle not to become one. I'm currently writing The Hover, Cedric, Book 2, and a collection of short stories.

When I'm not writing, I'm entertaining my wife, reading, watching movies, traveling, and perusing used book stores for 1st edition treasures. Look me up on Facebook!
---
Please LIKE my Facebook page and contact me there: